Square Enix's Avengers was one of the biggest disappointments of last year, so much so that even the publisher has admitted it.
The game launched with a myriad of issues, from broken textures, to matchmaking issues, and most importantly, a severe lack of diverse content. Needless to say, the promises that were being made before the game's release felt like cruel jokes to many players.
Avengers has been released for over a year now, and it's looking only slightly better. On the upside, fans have now gotten three new playable heroes in the form of Kate Bishop, Clint Barton, and Black Panther; a far cry from the monthly hero releases teased prior to launch.
One of the heroes who was confirmed for the future is Spider-Man, but only for PlayStation players. This, understandably, upset a lot of people in the game's already strained player base. However, word about the webslinger has been relatively quiet, if almost completely silent––until now.
Spider-Man Finally Arrives for Marvel's Avengers
In a new weekly blog post, Square Enix finally revealed when PlayStation players will be able to play as their exclusive Spider-Man hero in Marvel's Avengers: November 30.
The character will arrive alongside an event titled "Spider-Man: With Great Power Hero Event," where "players will experience Spider-Man's story through unlockable challenges woven throughout the Avengers Initiative."
The developers tease that in their world, Peter Parker "uncovers AIM's new plan... that could make their Synthoid army unstoppable and total domination inevitable:"
"Peter Parker uncovers AIM's new plan to acquire technology that could make their Synthoid army unstoppable and total domination inevitable. He must partner with the Avengers to stop this looming threat, and forms a tentative friendship with Ms. Marvel and Black Widow while keeping his identity hidden. As a Hero accustomed to working solo, he struggles with the new dynamics of working with a team. Will he join up full time with the Avengers, or stay independent in his fight against AIM?"
An updated roadmap for the rest of the year was released alongside the news, which shows all of the other features set to debut with the release of the ol' Webhead including the fact that the game will finally have a new raid after over a year of being out.
The full image can be seen below: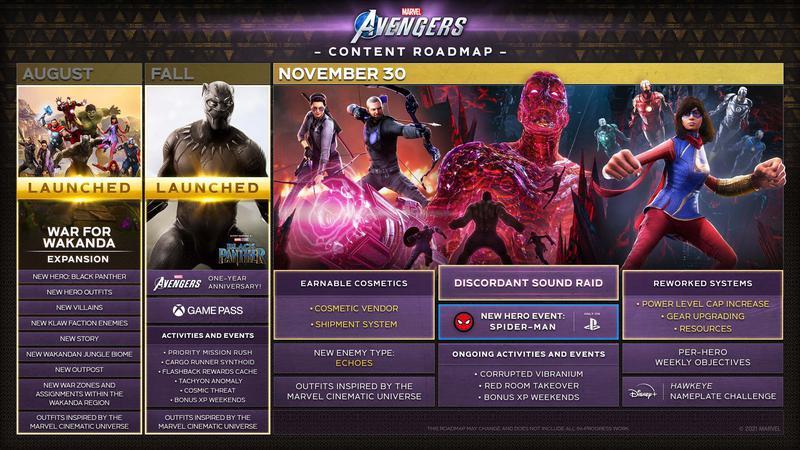 Avengers Tries to Distract
It's no coincidence that this announcement comes right off the backs of Square Enix's bosses publicly denouncing their own game. The developers want to regain players' confidence, and are trying their hardest to do so.
The problem is, Crystal Dynamics have been trying to do so for a year now. Many people thought that Spider-Man, whenever he was going to be released, would be the last hero the game saw before content support was officially cut.
While the developers have vehemently denied this, things aren't going much better. Updates are slow going, Crystal Dynamics recently let down the entire player base by breaking their word on pay-to-win additions, and the game has basically become a glorified MCU cosplaying space––with a majority of new costumes depending heavily on their likeness to the various film-accurate costumes.
Who knows, maybe Spider-Man can finally start to swing them in the right direction.
FOLLOW Xbox DIRECT